The next Low Carbon Agriculture Show will take place on 7 - 8 February 2023 at the National Agricultural Exhibition Centre (NAEC), Stoneleigh, to help farmers and landowners to rise to the challenge of producing more domestic, climate friendly food and energy, with fresh content announced this summer.
---
You can now download the show guide here.
---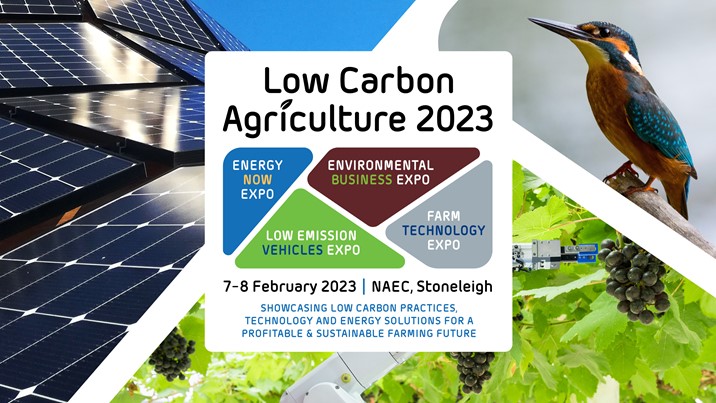 Following the success of the show last March, new conference sessions will focus on enhancing biodiversity, transitioning to regenerative farming systems, niche crops, managing energy use and costs, separate sessions on the decarbonisation of UK heat and power, and maximising returns from existing clean energy assets. A policy workshop, giving farmers and landowners the chance to quiz experts on agricultural, energy and environmental policy has also been added. The new topics have been introduced alongside already popular sessions, such as carbon farming, soil health, each renewable energy type and an open debate on reaching Net Zero in agriculture. 
Trudy Harrison MP, Minister for Natural Environment and Land Use will speak about Government's plans to support a productive and sustainable farming sector in the keynote session on Tuesday 7 February, and Defra's Future Farming and Countryside Programme team will be on hand throughout the event to answer questions on related policy and payments. 
Supported by CFE and held in partnership with the NFU & CLA, Low Carbon Agriculture Show will feature a showcase of the latest:
Renewable & clean energy technologies available and their role in mitigating sky high energy costs. 
Practices designed to drive down emissions and reduce environmental impact
Farm technologies created to help boost productivity in a sustainable fashion
Approaches to boosting the returns from existing clean energy systems
Zero emission vehicles & machinery, including offerings from JCB and New Holland and the unveiling of a fully electric 4x4
Agricultural, environmental & energy policy and opportunities 
Low Carbon Agriculture will feature its renowned multi-streamed conference, workshops, an exhibition, test drives of low emission vehicles and machinery and demonstrations of the latest innovations in agri-tech.

---