Name: Annie Brown
Region: South East England
Farm: Lower Paythorn and Perching Manor Farms
Size: 600ha
The BD Harris Trust is located near Fulking, West Sussex, and is run by Annie Brown with her Farm Manager, David Ellin. The holding is in the South Downs National Park, running from the Downs behind Shoreham to the Low Weald. The soils vary with about 1/3 of the holding on weald clay, 2/3 on thin chalk Downland soil. It is run as a mixed enterprise of combinable cropping with sheep and a beef sucker herd.
Below is David's story about the history of the farm, the decisions that had to be made, and the results.
Decline in fertility and wildlife
'From the early 1990s some 400ha of the Downland area of farm at Truleigh Hill was reverted from arable production back into grass and entered into the ESA scheme. By 2010 the grassland had lost productivity to the point where stock grazing was economically unsustainable and worryingly there had been a dramatic decline in the numbers of downland birds. In response to this, and with much guidance from Natural England, parcels of land on the Weald were entered into the ELS scheme and the land on Truleigh Hill into the HLS scheme.
Response
An extensive EIA concluded that 110ha of unproductive grass could be ploughed back to arable production; of this area half would be planted as a commercial arable crop and half as a low input spring cereal crop. In conjunction there would be flower margins, fallow plots over winter stubbles and over winter fodder crops.
Elements include: 55ha of OWS, 50ha fodder crops, Low input spring cereal 45ha, 900m beetle bank, 6ha of fallow plots, 1ha of 12m cultivated margin, 6m flouristically enhanced margin around 120ha of arable land.
The remaining grass area is managed by grazing sheep and a newly established 100 strong suckler herd in accordance with HLS rules.
CFE Farm Walk February 2014. David shows off his excellent WBS and describes the establishment technique.
Kick starting the ecosystem
How does the CFE help?
The ESA scheme had created a vast expanse of "Green Concrete" on Truleigh Hill. Food sources were extremely limited not only for birds but mammals and insects. By reintroducing arable crops to the farm we are providing a valuable source of food and hence kick starting the whole eco-system there. The newly established flower margins are providing pollen and nectar for the insect life, the beetle bank provides a habitat for vital insect predators and small mammals and the fallow plots an excellent site for ground nesting birds.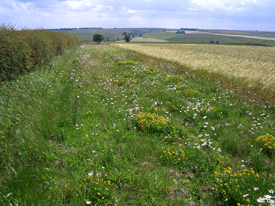 Forage and nesting habitat
Overwintered stubbles and the fodder crops planted for the stock provide excellent cover and forage for overwintering birds. These are complimented by the strategically placed wild bird cover plots. Mixes are intentionally planted to last two years, half the area is replanted one year and the other the next in order to maintain a level of food and cover on the farm. Seed is purchased from Bartholomews and typically includes Kale, Triticale, Quinoa, Millet & Wheat. I add some extra Linseed and sunflowers to create a more vibrant looking mix! Normally the cover crops give good service until February but spring can be delayed high up on the downs so we are going to start supplementary feeding wild birds in designated areas during this "Hungry Gap".
Key species
The key species we have attracted include Corn Buntings, Skylarks, Meadow Pippets, Finches & Grey Partridge. All have returned in encouraging numbers and recent surveys have indicated that our site has one of the highest number of recorded birds on the South Downs.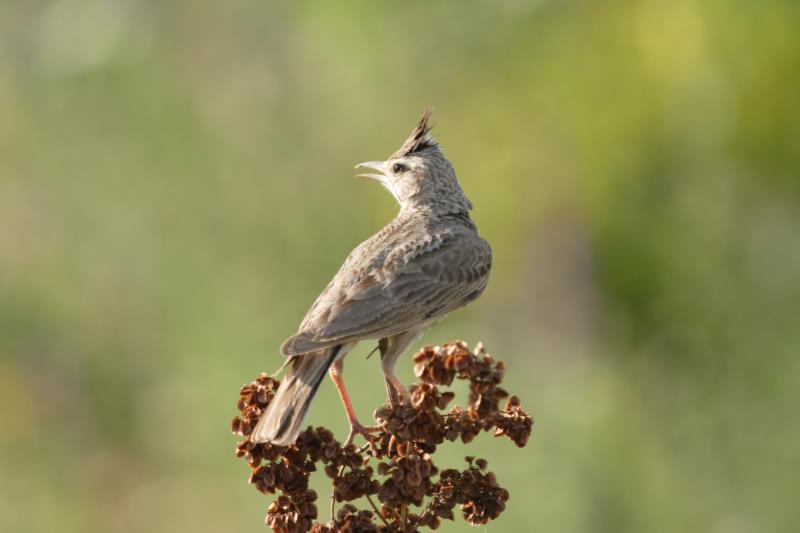 Economic viability, fertility & weed control
The mix of commercial and low input spring barley crops have successfully complimented the objectives of our stewardship scheme and the economic viability of our enterprise. A rotation of low input and commercial enables invasive weeds to be successfully controlled and also the core fertility of the land to be maintained. From an economic prospective, lwhen considering the low input spring barley, the reduced inputs do result in reduced output but the HLS payment has provided a secure buffer to ensure the enterprise is still viable.
Some may question that in a year of high cereal prices we are at a disadvantage due to lack of yield and that the payments do not compensate enough. However I feel that much of our downland is steep with very shallow chalky & flinty soil and would not respond to much increased fertiliser, seed and sprays in the same way that it would on our land at Perching Manor.
Ecological infrastructure supporting wildlife and food production sustainably
Stewardship has generated an arable mosaic on Truleigh Hill providing food sources and shelter for a wide range of species. Wildlife has returned and appears to be thriving and this has been achieved whilst maintaining an economically viable approach, one which has proven highly satisfying to all involved.'