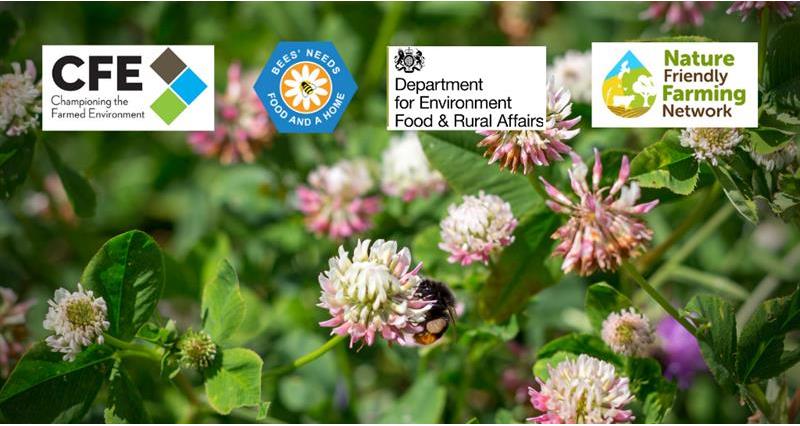 Farming category returns for the 2020 Bees' Needs Awards
---
This year Championing the Farmed Environment (CFE) are thrilled to be working with the Nature Friendly Farming Network (NFFN) to support Defra in celebrating the work of farmers who preserve and enhance pollinator habitat in the farmed environment.

Following the introduction of a dedicated farming category to the Bees' Needs Awards as part of the 2019 Year of Green Action, the awards return for 2020 to recognise farmers alongside community groups, local authorities and businesses who encourage and increase pollinator friendly habitats.

NFU Vice President Tom Bradshaw said: "It's great to see Defra continue the category specifically for farmers in its Bees' Needs Awards for a second year, and recognising the hugely important work farmers undertake to protect and encourage pollinator habitats on farm.
"Let's use this opportunity to showcase all that farmers deliver for the environment and our pollinators alongside food production."


Entry for the awards is open to farmers and land managers based in England and will be judged on the following criteria:
Dedication to supporting pollinators
Innovation and creativity
Promotion to others / awareness-raising of Bees' Needs
Evidence of beneficial impact for pollinators
We encourage all entrants to include photos with their entries.
Due to ongoing Covid19 restrictions, award winners will be invited to an online award ceremony in November. Their success will be shared with the public and wider industry to celebrate and encourage pollinator habitat protection and creation in the farmed environment.
Contact CFE Project Officer Laura Harpham at
Y2ZlQG5mdS5vcmcudWs=

with questions.