David Miller and the team at Wheatsheaf have established 4 metre pollen and nectar margins around all fields of the 3 farms which form the company, totalling 2000 acres of land. Companion and cover cropping extends the in-field flowering season and sensitive pest management has led to reduced insecticide use across the farm, benefiting many insects including bees and other pollinators.
A mosaic of habitat is offered across the farm, established through pollen and nectar margins, food sources in cover crops, hedgerow and grassy-margin nesting and hibernation sites and bare ground for ground-nesting bees. Habitat is also connected by pollinator corridors throughout the farm and farm manager Martin Lines works with other local farmers and the local council to encourage pollinator resource in the wider landscape, including on road verges and a publicly accessible bridleway.
Stokehill (awarded in absentia) in south Somerset is a small, traditional holding on which the bee-friendly farm management is shared with the local community through exceptional engagement activity.
Sensitive cutting and grazing regimes on Stokehill's hay meadow, native flowering hedges and grassy field corners provide food and shelter for bees and other insects, encouraging a rich diversity of species. Debbie Hicks at Stokehill also hosts a variety of public engagement events to showcase their nature-friendly farm practices and connect people with farm wildlife and green-space. These include school visits, teacher CPD programmes and adult health and well-being events.
---
Nomination and judging of the new farming category were overseen by Laura Harpham, Championing the Farmed Environment project officer. Laura spoke at the award ceremony about the importance of recognising the contribution of farmers to supporting populations of bees and other biodiversity on farmland, and the opportunities of inspiration and collaboration to encourage others to do more.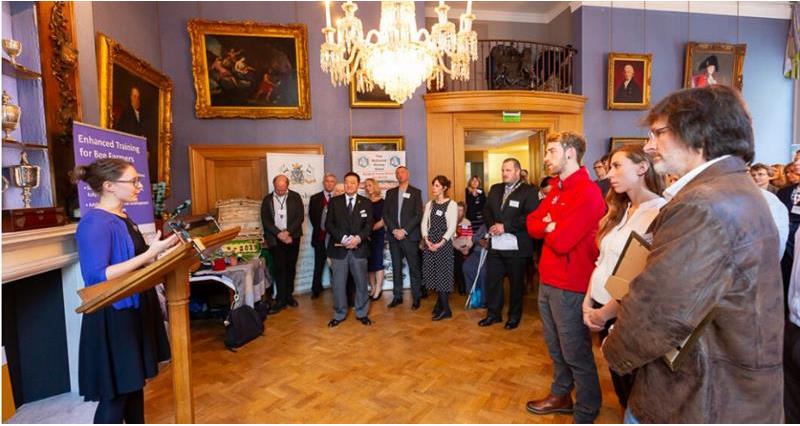 CFE looks forward to working with Defra and the Bees' Needs campaign again next year. Guidance on farm management for pollinators can be found on the CFE website.