This autumn Anglian Water funded five events, in partnership with CFE, focusing on water quality and productivity on farm
---
The events were developed with Anglian Water's team of Catchment Advisors and input from farmers.

Key speaker Andrew Howard, who completed his Nuffield scholarship on 'the potential for companion cropping and intercropping on UK arable farms', spoke to attendees about how he has reduced his fertiliser and pesticide inputs on farm by 40% whilst retaining yields through use of intercrops, no till and cover crops.
Events also offered a summary of the local catchment issues and water connectivity challenges by the Anglian Water catchment team, and an update on planned abstraction licence changes and how these may affect farmers from a representative of the Environment Agency.
The events also included presentations from local CFE Coordinators and the Farming Advice Service on Cross Compliance and Basic Payment Scheme changes.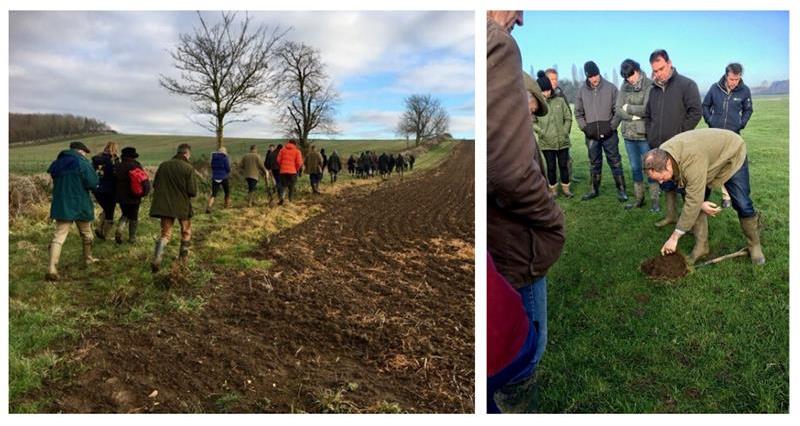 Left: farm walk and right, Andrew Howard looking at soil structure, both at the Arthingworth Estate event

---
Feedback received from the events was very positive, with farmers coming to the event particularly to hear Andrew Howard speak; one farmer suggesting it was 'the best CFE event yet' and had 'excellent technical content from all the speakers'. The format of the events was also praised for being 'concise' and fitting a lot of good-quality discussion in around a morning session.
Andrew Howard, Nuffield Scholar, said of the events: 'they ran well and the fact they were well attended seems to underline that there is an interest in changing farming practice'.
In Northamptonshire the event was held at Arthingworth Estate in Northamptonshire with 37 attendees. The feedback was again positive with responses from the event feedback form being 'good' and 'excellent'.
In Norfolk, the event was held at South Pickenham Estates with 40 attendees, may of whom were farmers or advisors.
In the Gipping catchment, Suffolk, the event was held near Stowmarket with 22 attendees.
In the Colne catchment, Essex, the event was held at Tuffon Hall, Halstead with 21 attendees.
In Lincolnshire, the event was held at Carlton le Scroop near Grantham with 37 attendees.
Anglian Water and CFE look forward to exploring opportunities to collaborate on further events in the future.
For more information, or to find your local Anglian Water Catchment Advisor, please email Y2F0Y2htZW50bWFuYWdlbWVudEBhbmdsaWFud2F0ZXIuY28udWs=